I tend to get very detailed in my oil paintings, but with watercolors I like to loosen up and experiment with a free-flowing technique. Also, this technique is good for beginners because it is very easy and in just a few steps you can create your first watercolor illustration.
The supplies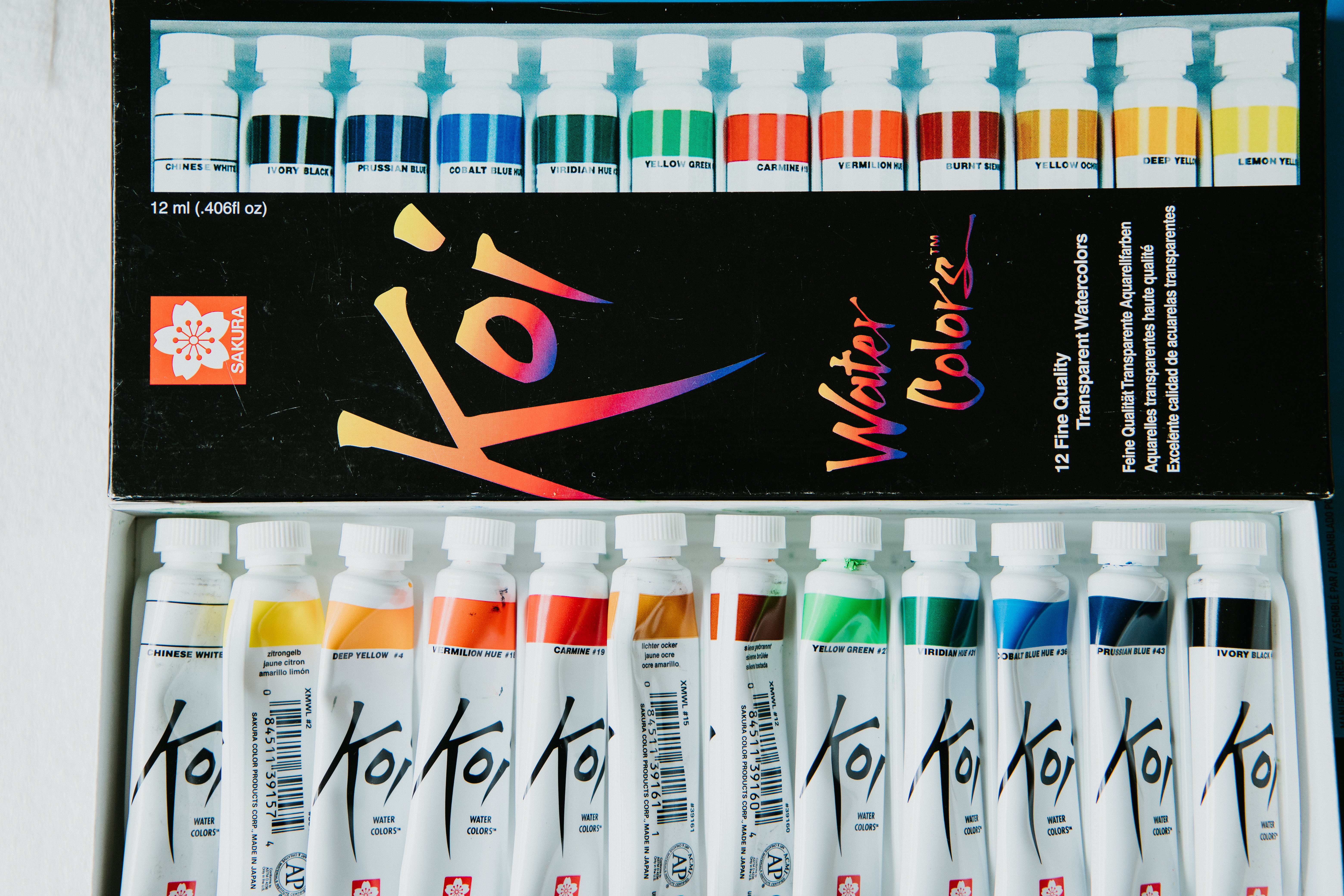 I like to use tubes because they are already moist and don't need to be watered down. Even after you leave them on the palette to dry, you can rewet them easily and pick up the pigment in no time. Also if you are working in a small space, you only need a mixing palette (I use a white ceramic plate) and squeeze your paint right on the palette without the need to keep your paints around all the time.
The best way to improve your watercolor experience without purchasing expensive paints and paper is to simply add a few drops of Ox Gall Medium that improves flow and helps pigments spread and mix more easily. Cheaper paints may leave streaks and dry unevenly, but this medium fixes this problem at a fraction of a cost. I even suggest adding a bit more than the instructions say. Instead of recommended 3-4 drops, I add about 8-10.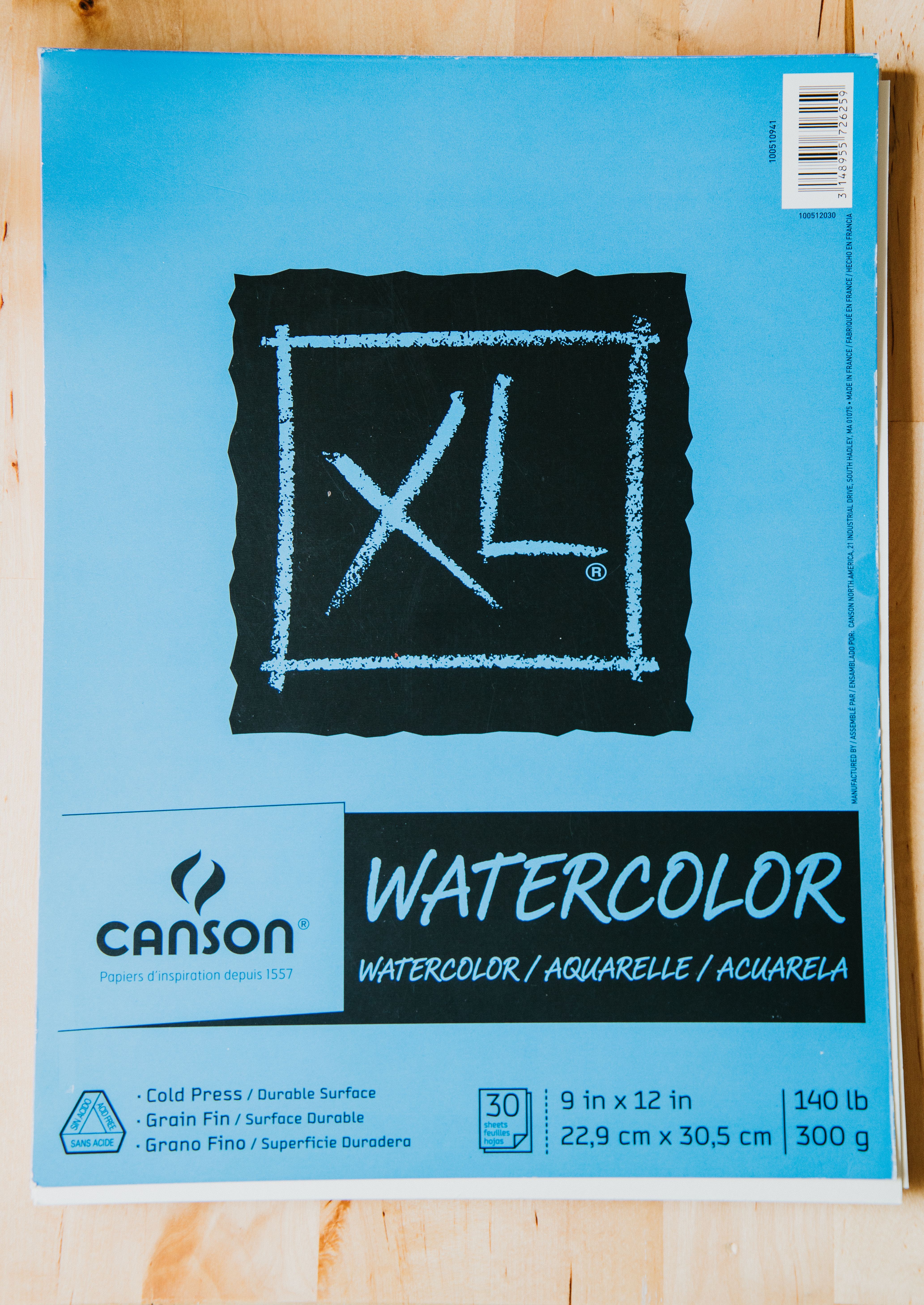 I recommend using at least 140lb watercolor paper for all wet media projects because it won't buckle and will allow you to add enough water to your paintings. Mixed media papers are not thick enough and ofter start warping from thin water washes. Watercolor paper, on the other hand, can let you rewet certain areas and fix your previous illustrations . Good quality paper can get quite expensive, even though it is worth every penny, but if you get a chance please give Arches a try. But for the beginners and someone on a budget I highly recommend Canson XL watercolor paper, it can take quite a lot of water and for small illustrations it is perfect (wide washes for skies or backgrounds could be tricky so I would suggest stretching paper with water first and then paint larger artworks), you can even work on both sides and it won't bleed through.
I keep my watercolor brushes to a minimum, following the rule of using the largest brush you are comfortable with. Small brushes can't hold enough water and paint so you will have to rewet your brush often. Also, larger brushes help you to stay loose with your paintings and work faster.
I alway keep two jars of water, with larger one being for cleaning brushes and smaller for having clean water when I need to mix or dilute paints.
I use a ceramic white plate that has some texture to it and that prevents paint from spreading and overmixing. However, anything can work as a mixing palette: plastic plate, paper palette, glass palette or the plastic palette that comes with the paints.
The process
Start by wetting your brush and picking up good amount of paint, you want your brush to be well saturated with pigment.
Put a few swirly lines in a circular motion, but keep them separate to indicate individual petals. Flowers usually appear darker in the middle where all the petals overlap, so you want this part to be darker.
Pick up more water and dilute your paint on the palette a little bit to get a more transparent wash.
Paint the outside petals in a free and loose motion, simply indicating the shapes of the petals and not adding any details. The paint will start flowing to areas with more water and you might start loosing pigment from the middle of your flower. To prevent that, simply push that pigment back in the middle with an almost dry brush. It will pick up extra water too, since the brush is drier.
You can add more paint to the middle of the flower, or add a different color (For ex., I sometimes add a touch of yellow to the pink flowers) and add more paint to the petals to have more definition.
Keep your flowers abstract. Watercolor is a loose and easy-flowing medium by nature. Experiment with that and take advantage of that! You can see the video demo below and feel free to send any questions or comments.
Demo
p.s. I use affiliate links and earn a small commission at no additional cost to you, this helps me keep this blog running and share free information with the world! 🙂