Watercolor Bushes and Trees in 4 Easy Steps
Watercolors might seem a bit intimidating even for the advanced artists due to its unpredictable nature. While I do recommend embracing the unexpected results, if you feel like you can use a bit of a systematic approach, here's one for painting foliage and overall shapes of bushes and trees in watercolor.
Supplies:
I used just one sap green color and simply diluted it for more transparency and used it as a lighter tone, gradually adding more pigment as I was working on midtones and shadows. And I also used a Pentel Aquash water brush ( Pentel Aquash Water Brush Assorted Tips ) for this tutorial, but any brush will do, just use about one size too big than what you think you might need, it will help you to maintain a rather loser and more abstract approach and you won't focus too much on the details.
So here's a little tutorial for painting bushes in watercolors in a few easy steps😉 Try to paint along and see for yourself just how simple it is!
Step 1 : Highlights.
You don't have to cover the entire area, just where the light is. Simply mark some broken shapes where the lightest parts are , mainly on the top and the outside, but add some more in the middle just to show the irregularity of the bush shape because in reality it almost never looks like a perfect ball.
Step 2 : Midtones.
Wait a little bit for the highlight to dry if you want to have a more distinct midtones, otherwise your second layer of paint will blend into the highlights creating a softer look. Block them in pretty generously, but remember to leave some empty spots for paper to show through, broken shapes have a more realistic feel.
Step 3 : Shadows.
Again, let the previous layers dry a little bit then go in with simply more saturated color, there's no need to mix in any black or other dark colors at this point. Keep them simple and don't overwork, use shadows as an accent that defines depth.
Step 4 : Branches.
Wait for the previous layers to dry if you want your branches to be thinner and sharper, otherwise they will mix onto the foliage (which still can be an interesting effect to experiment with). Using any brown, raw or burnt umber, paint branches as broken lines because leaves are overlapping them.
Most importantly, don't try to paint every leaf and rather think in shapes, but keep them random and add hints of separate leaves on the edges of the bushes and trees.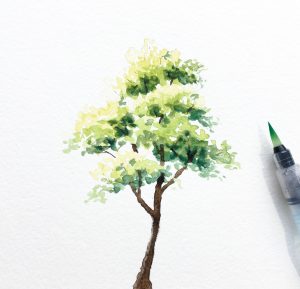 The same technique can be applied to trees
🙂 Hope you find it useful 😉
The Brush I used is from this set:
Pentel Aquash Water Brush Assorted Tips on Amazon
p.s. I use affiliate links and earn a small commission at no additional cost to you, this helps me keep this blog running and share free information with the world! 🙂