Pros and Cons of using Linseed and other oils as painting mediums
You've probably heard of artists who are trying to stay away from solvent-based painting mediums due to allergies or possible poisoning from the toxins that evaporate as you paint. Their alternative is using natural oils to mix with the paint, since it's already in the oil paints. I gotta say that, first of all, it's a personal preference. You don't have to avoid solvent-based mediums (just don't have your food around and ventilate your working area) I do use them and enjoy the qualities they bring to the painting process. But I also use pure oils from time to time and here I want to give you some insights into what makes these oils so different and what to keep in mind when deciding which oil to choose.
First, let's talk about what makes oils yellow over time. Any oil consists of a range of fatty acids that in contact with the oxygen form a strong bond, this process is called oil polymerization. This is how the oil film hardens. But the reaction continues even after all the molecular chains linked together and the film had formed. Over time fatty acids continue reacting with each other initiating the process of degradation and the by-product of this reaction results in yellowing.
Linseed oil contain the most concentrated amount of fatty acids which result in a stronger film and, therefore, more noticeable yellowing. The alternative to that is using walnut, poppy or safflower oils, but bear in mind that since they don't have as many fatty acids, the film that these oils form is not as strong. So the best alternative would be to mix strong linseed oil and less yellowing safflower oil to achieve a "happy medium".
You also have to remember that the paint itself that uses oil as mediums as a vehicle for its pigment also might contribute to the yellowing process. Therefore, many popular manufactures are substituting linseed oil for less yellowing oil like safflower in their light, mainly white, colors. Here are some examples of Winsor and Newton's Titanium White (you can always check what it the medium used in the paint on the back of the tube).
Another one of my favorite brands M. Graham uses Walnut oil in all of their paints. Walnut oil is stronger than safflower oil and less yellowing than linseed.
Here's another white, Zink White, that is slightly less opaque than titanium white, but unlike Winsor & Newton paint, this one is made with Walnut oil that will have slightly stronger film that safflower oil.
I personally prefer Drying Poppy Oil — it is the palest of all the drying oils and resists yellowing, which is good for use
with white and pale colors. In addition, it is modified to increase the drying time because most of the natural oils dry way too long for my taste.
However, you have to keep in mind that the yellowing process cannot be completely eliminated, but oil medium manufacturers are trying to at lest lessen the intensity of yellowing. So if you have you mind set on linseed oil, there are a few different kinds that might fit your needs if you decide that compromising the film strength is not an option.
Refined Linseed Oil (the one I use when I decide to use linseed oil)— this slower-drying low acid oil is refined from all of it's impurities which makes it less susceptible to yellowing.
Cold Pressed Linseed Oil — is slightly yellower oil that is extracted by pressing flax seeds, without the use of heat. It dries slightly quicker than refined linseed oil, but increases the tendency to yellow over time.
Bleached Linseed Oil — this is a cold pressed linseed oil increases that also lengthens drying time of oil paints, but this one is less susceptible to yellowing than a regular linseed oil. Old Holland is one of a few manufacturers that make this oil.
As you can see, the options are limitless and can get a bit confusing. My best advise it to try them for yourself and see what works for you. It will be years and decades before you notice the yellowing, so you don't plan to keep your paintings for that long, you can use linseed oil without any worries, but if you want your paintings to last for generations, make your choice wisely.
Thank you for reading my post, I hope you find it useful and insightful without sounding too complicated. Let me know in the comments if this answered some questions about the oil mediums or ask any questions you would want me to answer in my future posts 😉
You can find the products mentioned above here: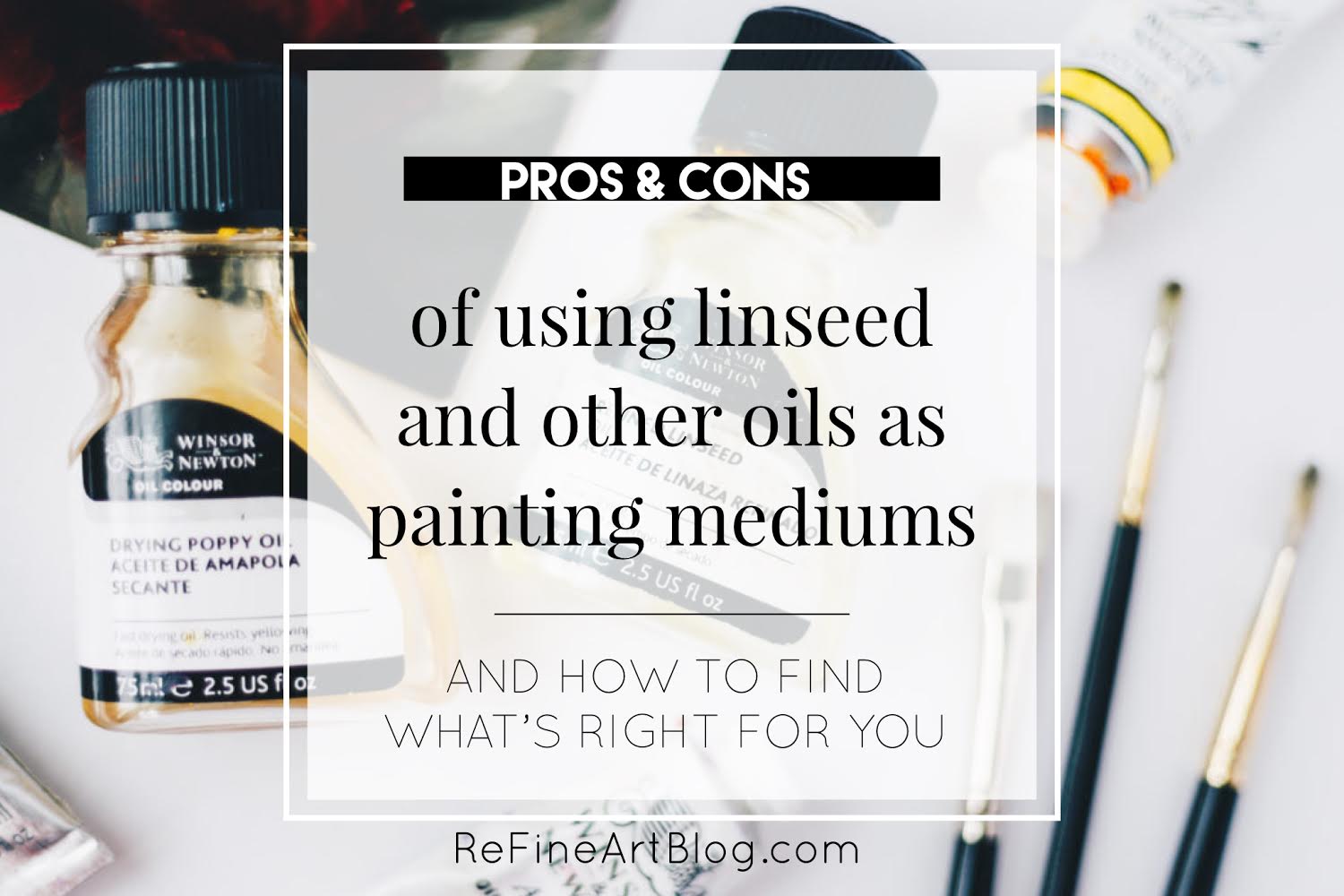 p.s. I use affiliate links and earn a small commission at no additional cost to you, this helps me keep this blog running and share free information with the world! 🙂